Going down the Shore is a popular summer tradition with pleasant towns, festive boardwalks, cozy beach houses and miles of family-friendly beaches.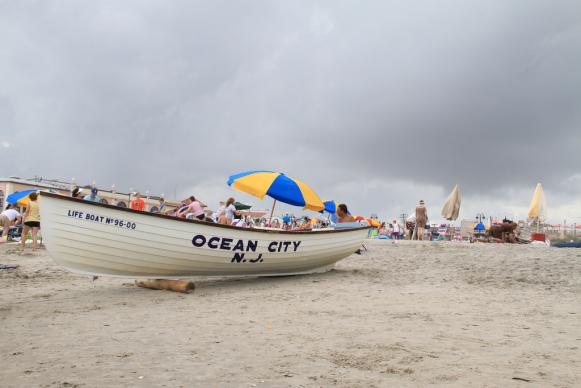 Going down to the Jersey Shore is a popular summer tradition with mid-Atlantic residents from New York, Philadelphia and, of course, New Jersey. Busy city dwellers trade a subway for a beach cruiser and embrace a vacation of boogie-boarding, beachcombing and cruising the boardwalk. While basic hotel accommodations are available all along the Shore, most visitors choose to get comfortable in a rented house, ranging from simple condos to beachfront mansions. Here's our selection of the best Jersey Shore beach towns, from north to south.
Spring Lake 
Spring Lake is one of the more refined spots on the Jersey Shore with stately homes, quiet beaches and a non-commercial boardwalk. And then there's the namesake lake situated in the middle of town, lined with weeping willows and quiet nooks, perfect for a serene evening stroll. The Breakers Hotel has undergone some name changes and lots of renovations since it first opened in the late 1800s. With its wraparound porch, it is a majestic presence on the beach and the only beachside hotel in town. Spring Lake is just 60 miles from downtown New York and is accessible by train from the city, making it a popular day-trip or quick weekend getaway for New Yorkers.
Island Beach State Park 
Island Beach State Park is a protected barrier island in the Atlantic Ocean and Barnegat Bay. This 10-mile stretch of unspoiled beach is far removed from the frantic pace and nonstop activity at nearby Seaside Heights. Little has changed here since the Native Americans and early explorers enjoyed the shore hundreds of years ago. The beach's rolling dunes and dense forests are home to red foxes, osprey and a variety of shore birds. Unlike other NJ beaches that charge per person, here you pay a flat fee for your vehicle. Plan to arrive early on weekends and summer holidays as staff closes the beach to new guests once the parking lot is full.
Long Beach Island
Long Beach Island, or LBI as it's known to the regulars, has 18 miles of fine silky sand and some of the best breaks along the Shore. With its boozy nightlife and busy beach scene, Beach Haven is popular with the young crowd spending weekends at the Shore. Ship Bottom is a popular family spot with a playground and calm bay beach away from the ocean's currents at 15th Street. Surfing is permitted at 19 spots along some of the area's best beaches, including Barnegat Light, Harvey Cedars, Surf City and Ship Bottom. Whether you're a diehard surfer or just watch from the beach, you'll want to check out the original Ron Jon shop in Ship Bottom. The first Ron Jon surf shop opened here in 1961, and today this 4-story surfing emporium sells everything from boards to board shorts for those who just want to look the part.
Ocean City 
Known as the America's Greatest Family Resort, Ocean City is often voted the best beach in New Jersey. There are 8 miles of shore for swimming, boogie-boarding and sandcastles. A wooden boardwalk lines 2-1/2 miles of these beaches, entertaining visitors with rides, mini-golf, carnival games and a water park. A spin on the Ferris wheel followed by some free fudge samples is the pinnacle of nightlife in this dry town, making it a popular spot for families who appreciate old-fashioned fun. The boardwalk scene is even more festive on Thursday nights in July and August with free entertainment including musicians, magicians and karaoke.
Stone Harbor/Avalon
Together, the neighboring towns of Stone Harbor and Avalon form 7 Mile Beach, a wide stretch of shore known for its cool ocean breezes. Bring a kite to the beach in Avalon and watch it soar over the dunes or simply lounge on the sand. Then head to Stone Harbor for the shopping along 96th Street and Third Avenue where surf shops selling the season's best flip-flops sit next to boutiques peddling art, jewelry and quirky souvenirs. No visit is complete without some homemade ice cream from Springer's, which has been scooping the Shore's best for over 8 decades. If you need a break from the beach, head inland to the Wetlands Institute for a kayak tour through the marshland and possible turtle-sightings.
Wildwood
Wildwood occupies a unique spot in pop-culture history as the center of Doo Wop in the 1950s and 1960s with colorful motels, bright diners and flashy neon signs. Young people flocked to nightclubs like the Rainbow Club where Chubby Checker first introduced the world to the Twist in 1960. Today, the Doo Wop Preservation League works hard to preserve the space-age architecture and keeps the kitschy spirit alive with historic tours. Today's beach scene may be different from the beach blanket bingo days of old. The twisting and turning is more likely to be experienced at one of the boardwalk's 6 bone-rattling roller coasters or 3 water parks. However, with free admission and a busy boardwalk scene, countless families and groups of friends still stake their spot in the sand amidst a sea of colorful umbrellas.
Cape May
You know you've arrived when you reach the mile marker "0" on the Garden State Parkway. As the farthest point south on the Shore, Cape May is the crown jewel of the region with gorgeous beaches and a quaint town center filled with gingerbread Victorians and colorful bed and breakfasts. Bring your binoculars to the beach to spy the playful dolphins jumping in the wake. Just before sundown, head to Sunset Beach to catch the daily lowering of the US flag accompanied by Taps. Then head to town for a cocktail at the hip Brown Room at the stately Congress Hall hotel. Other dinner choices range from the casual seaside ambience at the Lobster House to formal dining at Union Park or the Ebbitt Room. After dinner, peruse the shops in Washington Square, climb aboard a trolley for a slow tour of town or learn about the area's long-term residents on a spooky ghost tour.This article was originally published here: https://www.travelchannel.com/interests/beaches/articles/the-jersey-shore