For those who have been to the New Jersey Shore, they definitely know how great it is to spend summer time there. It definitely has a special place in their hearts, especially if they have tried some of the best things there- a slice of Manco pizza, some cones of swirled Kohr's custard, or that very delicious sticky caramel corn from Johnson's. And while there's a place for those with sweet tooth, New Jersey Shore has more to offer. In fact, it can be one of the best dining destinations to visit that do not really require a stroll up and down the boardwalk.
Whether you want to go the beach and get some tan or simply spend the summer there, you'll be looking for some of the best restaurants to dine in for sure. Here is your chance to see where you should dine whenever you're going to the beach – whether it's breakfast, lunch or dinner. Below are some of the best spots to include in your must-try list. Be sure to check out one or more of them.
Best Restaurants to Try in New Jersey Shore
Asbury Festhalle & Biergarten
If they have excellent food and even better brew, beer gardens don't call for warm weather to be great. The managers of this Austrian/Hungarian beer hall must have learned that when they launched the sibling to Hoboken's Pilsener Haus & Biergarten at the end of January. Summer just makes picnic-table pretzels, wursts and steins that much better — especially when experienced on the open-air roof deck.527 Lake Ave., Asbury Park, NJ; 732-997-8767
The Arlington
Beach fare has an inclination to get boring after a while but this forward thinking Ship Bottom restaurant and cocktail lounge keeps it delightful with a menu that's full of international influences from the American South to Morocco, Japan and beyond. Bonus points for barreled and bottled cocktails by the sea.
1302 Long Beach Blvd., Ship Bottom, NJ; 609-494-8848
Steve & Cookie's By the Bay
At this classic with a bay view it's all about old school style. Raw bar and seafood offerings are carried right alongside Italian Market-sourced plates like Fiorella's sausage casserole and burrata from Claudio's. During the summer months Steve & Cookie's grand piano room presents jazz, swing and familiar covers every night of the week.
9700 Amherst Ave., Margate City, NJ; 609-823-1163
Max's Famous Hot Dogs
Open since 1928, Max's and its quarter-pound footlong hot dogs are renowned. Made with beef and pork, the dogs are griddled until they burst and served on an insanely smaller bun. Top as you like with hot peppers and a saucepan of sauerkraut that is reached around the counter, but "this dog has sufficient character on its own that it needs no embellishments. The natural casing offers it a great snap and crunch, accompanied by a burst of salty juice and a hint of smoke.
25 Matilda Ter Long Branch, NJ; 732-571-0248
Lentil Tree, Asbury Park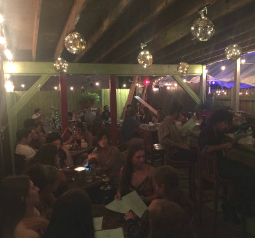 At Lentil Tree, you'll find Mediterranean cuisine with an intensity on North African and Middle Eastern dishes, including customer favorites like homemade Falafel, Hummus, Babaganoush and Spinach Quiche Entree (a Syrian concept dish).  Old world hospitality is apparent in their easygoing environment, where customers and friends can have real authentic recipes both indoors and on the outdoor patio. Plus, they now give live music in their outdoor "Tree House", and are open late night on weekends for those post-going out appetites.
808 5th Avenue, Asbury Park (732) 455-5066
Mar Belo, Long Branch
You may experience Long Branch as just the home of Pier Village, but there's so very much to this seashore town. Just have a drive down Broadway and you'll find an area filled with restaurants that excel at Portugese dishes. One such restaurant is Mar Belo, a local hideout where you are assured to fill yourself with tapas and one of our favorites, their Caldierada de Marisco aka Seafood Stew. Don't forget to check them out on Wednesdays for a great deal on deliciously cooked steak.
611 Broadway, Long branch 732-870-2222
Porcini, Highlands
Porcini goes on to make waves at the Jersey Shore, giving themselves a character for being a warm restaurant featuring five star dishes. Their menu of fresh Italian-American cuisine has become less and less "hidden," and the nightly specials prepared with seasonal and local ingredients are as delicious as they are exquisitely prepared. If you get the chance, be entirely sure to try Chef Chris Atamian's Pork Osso Bucco. It's to die for!
168 Bay Ave Highlands (732) 291-3080
Senza Cucina, Bayville
This Jersey shore is a hidden gem for foodie readers. Senza is an old pizzeria that expanded and is giving up some of the most original southern Italian dishes in Ocean County!  One meal here and you're hooked! We're happy to pass an endorsement like this along, especially when we've been hooked as well.
333 Atlantic City Blvd., Bayville 732-503-4470
Via Roma, Toms River
On the outside, Via Roma looks like any other Italian restaurant serving up all the classics, but take a peek at their menus, and you're in for a revelation. Via Roma has an extensive menu of gluten free, vegan, and vegetarian options. This has helped Via Roma bring in new diners from near and far. Via Roma is one of the best restaurants at the Shore for everyone with dietary limitations, but any meat, dairy, and grain-loving diner is bound to love their food as well. It's truly a hidden treasure at the Jersey Shore.
2360 Lakewood Dr (Route 9), Toms River (732) 364-1980
The Red Store
The Red Store isn't just enough for the Shore—it could possibly crack our list. The idea is novel: It's a common store, coffee shop and fine-dining restaurant housed in an airy red barn encircled by lush gardens. The food being put out by chef Lucas Manteca (a James Beard Award nominee) and his crew has an Argentine accent, so there are daily empanadas on the apps side and aged New York strip with chimichurri for the mains. But don't let that inhibit you—if the gnocchi are on the menu, get them. If you can't make it there for dinner, you'll be happy with breakfast and lunch, where all things from the bread to the sausage is homemade.
500 Cape Avenue, 609-884-5757
Exit Zero Cookhouse
"You like curry?" will perhaps be the first question you hear from Jack Wright, the man behind the Cape May-focused Exit Zero magazine and presently a bona fide restaurateur. There are a few points about Exit Zero that feel slightly amateurish (the too-small plates, for starters), but the truth that this is a mash-up of a curry shop and an all-American joint, with dishes like Thai lobster curry, crab and cheddar flatbread and fettuccine with pesto, is what keeps it exciting. Plus, all that food is excellent. Wright makes for an enthusiastic host, and the servers will run across the street to get you a bottle if you forget to take one of your own.
109 Sunset Boulevard, 609-305-5203
Quahog's Seafood Shack
The Shore restaurant location is most obviously not lacking in seafood spots, but Quahog's has come to be a destination even for those who don't live on Seven Mile Island. The appearance of the place is one reason—the indoor-outdoor dining room has exposed beams and comfy seating—but really, it's the food. Longtime chef Carlos Barroz adds a Latin bent to some dishes, like the chorizo-and-coconut-milk-tinged moqueca stew. But it's the tangy, smoky barbecued fish ribs that secured him a spot on the Food Network.
206 97th Street, 609-368-6300
Sofia
A quarry's cost of granite, flagstone and ceramic tile offers this upscale Greek taverna the feel of an Aegean wonderland—one where an indirect island-shaped bar loops around the radiating branches of a sculpture of a tree. Belly up to it at happy hour for a gin-y Negroni (or offbeat Greek wine by the glass) and ouzo-splashed shrimp saganaki with pita still steaming from the hearth oven. The kasseri-cheese-stuffed meatballs—redolent of cumin, oregano, and orange and lemon zest—are another must. And don't miss the flatbreads, which can run from clams casino to roasted duck with balsamic-laced cherry tomatoes.
9314 Amherst Avenue, 609-822-9111
Chef Vola's
The story of Chef Vola's looms large. Regulars like to say it's difficult to get reservations at this 95-year-old joint—that there's not even a phone number to call. That's not technically accurate. And you don't have to know somebody to get a seat here, but it helps. There are, nevertheless, a few points to know. First, if you forget to BYOB, a nearby liquor store can deliver an excellent bottle to your table. Next, bring cash, because there's no ATM on-site. Lastly, order the veal Milanese, better-than-most linguini with clams, and grilled homemade veal sausage with peppers. And save room for dessert, because longtime co-owner Louise Esposito will pretty much insist that you try her banana cream pie—but only after telling you about the time Frank Sinatra begged her for another slice.
111 South Albion Place, 609-345-2022.
Café 2825
Keep going past the tourists waiting in line at Carmine's in the Quarter, because just a street away is this under-the-radar eatery with mom-and-pop attentiveness and food with soul. Joe, the owner, will perhaps pull the homemade mozzarella right in front of you, while his wife, Ginny, will pour the strong drinks. This is the place to order a big-ass veal chop (it's house-cut and bone-in), and we'd travel miles for the ricotta cavatelli. Also, plan ahead: There are only 14 tables, and they can be hard to come by.
2825 Atlantic Avenue, 609-344-6913.
Martorano's
This newer spot inside Harrah's—there's a real outpost in Fort Lauderdale—is unapologetically gimmicky and over-the-top in its goombah-ness. Your waiter might indicate that you better ask for the giant meatballs or you might find yourself "sleeping with the fishes"; we're pretty sure the managers are putting on the Goodfellas- accents; and there are dark suits, tight dresses and gold chains for miles. But then again, owner Steve Martorano does come from South Philly. Nevertheless, the food is damn good, and if you grew up with an Italian grandma (or always wanted one), you'll want to order all on the menu. Just do us a favor: Do get the giant meatballs. We're told they're Al Pacino's favorites, and we wouldn't want anything to happen to you.
777 Harrah's Boulevard, 609-441-5576
The Gables
Here's the point about the Gables: The place is so magical that even if the food was dreadful (which it isn't), you'd still see all your friends to go. What with the flickering candles and flowers blossoming everywhere, eating on the front patio or in the bricked courtyard feels like you're in Savannah or Napa or Provence. And the food can hold its own. The chef keeps things on-trend by making pastas in-house, sourcing meats from well-respected farms, and setting up the menu around in-season ingredients, so you get dishes like grilled Duroc pork chops with homemade rosemary-mustard spaetzle, and a s'mores tartlet with homemade marshmallow.
212 Centre Street, Beach Haven, 609-492-3553
Shore weekends are, of course, about beaches and bikes and late-night games of dominoes, but nothing quite captures summer like the delicious tastes we dream about all winter. With all these options to choose from, no doubt your palate will be most satisfied.
These are just some of the many more restaurants that you can visit and try in New Jersey Shore. With all these options, you will definitely enjoy your stay even more. When in New Jersey Shore, be sure to check out some of them, dine in, and share the experience.
Isn't it great that when traveling you've got the most beautiful places, cool breeze, the heat of the sun, and the most delicious food? If you are looking for this kind of experience, this is the best place to be is the New Jersey Shore.