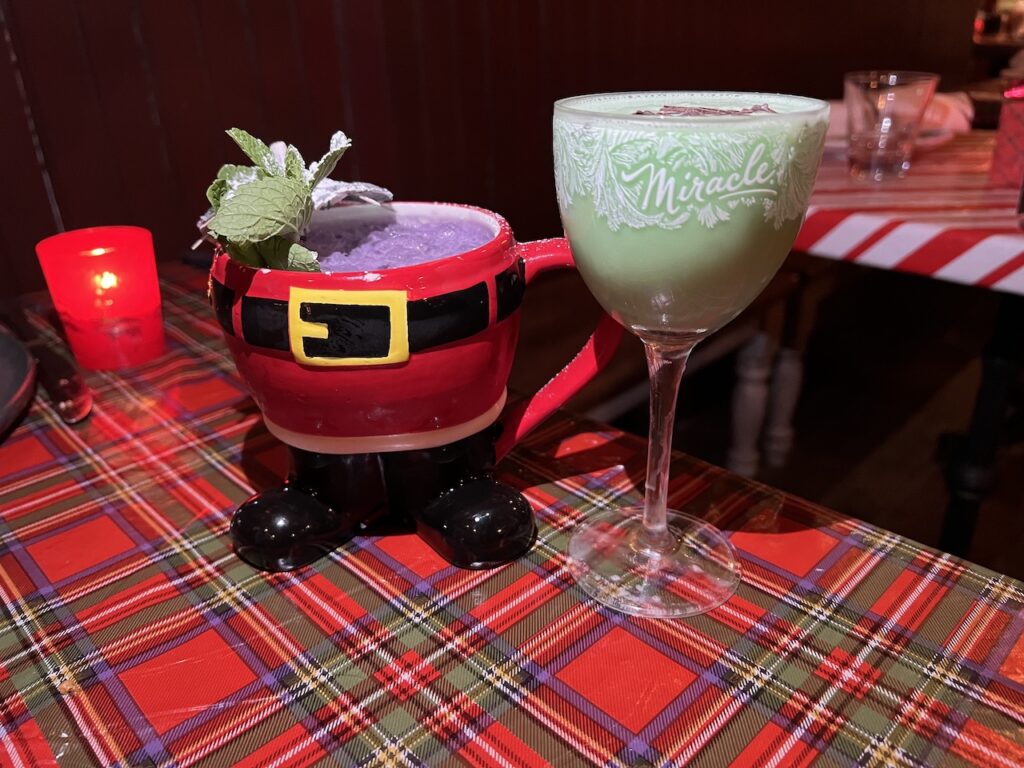 Holiday pop-up Miracle on Mercer returns to Franklin Social (292 Barrow) this Thursday, November 9. The Christmas-themed cocktail bar will offer holiday libations through Monday, January 1.
Miracle on Mercer is an international pop-up spreading holiday joy one cocktail at a time. It's a great opportunity to take a break from the commercialization of the holidays and enjoy cocktails, food, and some holiday tunes with friends. Here in Jersey City, Franklin Social undergoes a Christmas makeover that'll bring festive vibes to the biggest holiday Grinch.
"It's incredibly exciting to be kicking off the 2023 season, almost a decade to when we first started," says Greg Boehm, founder of Miracle. Meanwhile, general manager and cocktail expert Joann Spiegel has crafted an array of new holiday-themed cocktails that will debut on this year's Miracle menu, including Rudolph's Replacement, The Krampus, and Marshmallows & Unicorns. Favorites like the Christmapolitan and Christmas Cricket will also be back, all served in Miracle's signature kitschy glassware.
As a reminder, Miracle will donate 10% of all proceeds from the retail sales of its signature Santa's Head, Santa Pants, and Christmas Carol Barrel mugs to its 2023 holiday charity partner Seva Foundation.
Miracle on Mercer Cocktails

The Miracle on Mercer 2023 cocktail menu includes a few favorites from previous years as well as some new holiday drinks — all served in playful mugs and glassware.
New cocktails this year include Rudolph's Replacement (vodka, coffee liqueur, white creme de cacao, orange curaçao, chai, almond milk, aromatic bitters); The Krampus (reposado tequila, oloroso sherry, allspice dram, mezcal, ginger, hibiscus, lime, hellfire bitters); and Marshmallows & Unicorns (gin, vanilla liqueur, velvet falernum, cherry liqueur, cardamon, black pepper, marshmallow, lemon, egg white, tiki bitters, soda). Other favorites like the Snowball Old-Fashioned, Christmapolitan, and Yippie Ki Yay Mother F****r will be back for another season. The full cocktail menu includes:
Christmapolitan
Snowball Old Fashioned
Carol Barrel
Koala Cooler
Marshmallows & Unicorns
Christmas Cricket
Elfing Around
Rudolph's Replacement
The Krampus
Yippee Ki Yay Mother F****r!
Jingle Balls Nog
Hot Buttered Rum
Mulled Wine
Nice or Naughty shots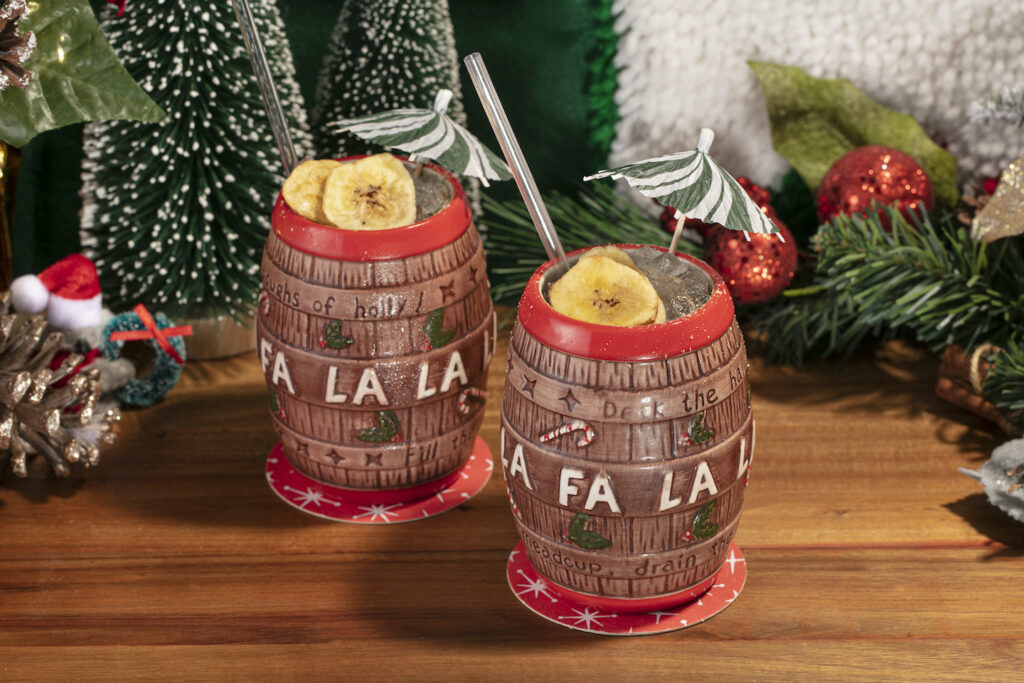 Miracle on Mercer Hours
The Miracle on Mercer hours for 2023 will be:
Mondays through Fridays: 4pm to 1am
Saturdays/Sundays: 11am to 1am
Miracle on Mercer Events 2023
Miracle on Mercer events for 2023 include a Black Friday brunch, ugly sweater party, and a toy drive.
November 24: Black Friday brunch
December 2 & 9: Holiday bus tour
December 10: Toy drive from 12pm to 3pm
December 12: Ugly sweater party from 7pm
The History of Miracle
Miracle was born in 2014 when Greg Boehm was working on his new (at the time) East Village bar called Mace. Boehm's mom encouraged him to halt construction of his bar and transform the unfinished space into a holiday-themed cocktail bar. Suddenly, Miracle on Ninth Street was born and New Yorkers flocked to the cocktail bar. In the years that followed, Boehm's industry friends reached out to him (and general manager Joann Spiegel) to see how they could recreate "Miracles" at their own bars.
Today, Miracle is international with pop-ups throughout the U.S., Canada, Central America, Europe, and Asia.
This year there will also be additional Sippin' Santa pop-ups. Sippin' Santa is the tiki version of Miracle with partner and tiki expert Jeff "Beachbum" Berry. The Sippin' Santa pop-ups will have tiki-themed drinks like the Christmas Eve of Destruction and Papa Noel. The Vanguard Harrison will once again host a Sippin' Santa pop-up.
(Photos: Franklin Social/Miracle on Mercer)
The post Miracle on Mercer holiday pop-up returns to Jersey City on November 9 appeared first on Jersey City Upfront.