Just because you've decided to spend your family vacation at the Shore doesn't mean you have to spend your entire vacation at the beach. Grab your family and your sense of adventure, and check out the boating options in Jersey Shore. The possibilities to get you out to the water and experiencing the waves are endless. You can have a leisurely ride on the calm waters of the bayside or a deep-sea adventure with ocean waves. Boating packages at Jersey Shore are kid-friendly too.
Boating is a pastime that becomes part of your very being. There is just something about being out on the water. It's where you can spend time with your family and friends enjoying nature, fishing, cruising, swimming, dining or water sports. Spending summers on the water and enjoying all that New Jersey Shore has to offer is a way of life for residents and visitors.
The afternoon sea breeze arrives between noon and 1:00 PM almost every day, so the sails in Jersey Shore are up almost all season long! Beautiful seashore locations give visitors the enjoyment of the sailing lifestyle with the added benefit of enjoying a relaxing day at the beach.
Recreational boating is a great way for families to spend time together and it can be a valuable experience for the children, which provides a lot of learning opportunities. Exposing children to fresh air, sunshine, marine life, and the environment offers quality time for the whole family. There are so many opportunities for boating fun in Jersey Shore. The memories of being on the water are ones that last a lifetime.
Take advantage of all of benefits that boating has to offer and discover why life truly is better with a boat.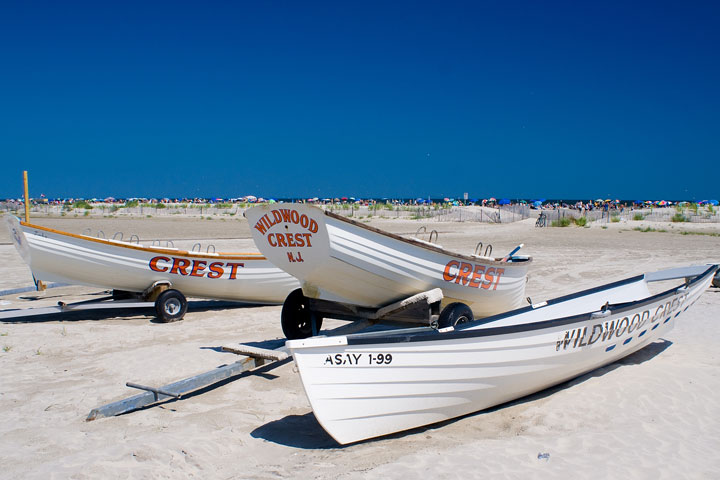 Sightseeing
Sightseeing excursion is like getting up close and personal with the wildlife of the open waters. Watch the whales and dolphins in their natural habitat. Take this unique opportunity to teach your children about the importance of recycling and proper waste disposal to keep the earth healthy and clean for these and other animals.
Fishing
If you're up for some action, take your kids on a fishing charter trip. Whether they have never been fishing before or it's one of their favorite pastimes, they will love being out on the open water, casting their reel and seeing what they can catch.
Wave Runners
If you're looking for a boating experience for you and your family with a bit more excitement, check out one of the many tour operators around that specialize in the high-powered, high-adrenaline water sports options.
Pirate Voyage
Kid boating is exemplified with Pirate Voyages available at Ocean City, one of the top places to visit in Jersey Shore. This experience provides kid-friendly entertainment by knowledgeable crewmembers that will make your kids feel as though they are real pirates hunting for treasures deep in the sea. Parents don't need to worry since the ships never leave the back of the bayside and have a 100% safety rating.
The Boat
One of the most frequently asked question is, "what type of boating is right for me?" Well, it all boils down to the amount of times you wish to boat versus the cost each time you get on the water.
Yacht Charter
If you plan to sail up to 7 times per season then chartering a yacht or renting a boat is probably the most cost effective option for you. With an average cost between $600-950 per day, this will already satisfy your craving for boating.
Boat Club
If you would probably like to boat 15 times per season, particularly on boats less than 30ft, then you might want to consider a boat club. With an average cost per day of $270, based on annual membership fees/uses per season, this option provides boating more frequently than charter for a much lower per use cost.
Fractional Boating Membership
If you are considering boating and being on the water 30 times per season especially in boats larger than 30 feet, a fractional boating membership would be great for you. Fractional boating offers the lowest cost per use out of any of the boating options, at $233 per use, based on annual membership fees uses per season.
Private Boat Ownership
If you want to sail for more than 50 days of boating per season, it will much better to consider purchasing your own boat for private use.
Get out there and enjoy the boating lifestyle! Here are the top boating fun options in the Jersey Shore:
Totally Tubular Watersports
If you want more action and thrill on the water, go to Totally Tubular Watersports. Tubing, wakeboarding, and waterskiing are great for kids of all ages and adults too. No experience necessary because anyone can do it! Totally Tubular Watersports has US Coast Guard certified Captains and Crew that will make learning easy and fun. Experienced riders can challenge themselves to go behind the boat. Boat tours are also available that will take you through the lagoons of the back bays of Ocean City and Margate, or check out the Ocean City boardwalk from the ocean. Boat tours and sunset cruise are also available.
LBI Boat Tours
Explore over 30 miles of bays, creeks, coastline, historic maritime sights, and marine wildlife in 2-hour tours run by USCG licensed captains in high performance boats. These personalized interactive boat tours of up to 6 persons are popular in Long Beach Island. Sunset cruises daily, wedding party cruises, bachelor and bachelorette cruises, and family fishing trips are also available. Enjoy sunset cruises and special event cruises to Atlantic City's Airshow, July 4th fireworks, and customized private boat tours.
Baycats
You can have kayaking, paddle boarding, and Hobie catamaran sailing right on the bay with Baycats! Sailing lessons and guided kayak nature tours are also offered. Baycats has full service Hobie dealer with catamarans, parts, and accessories. Sailboat rentals, lessons, rides, and sailing camp for kids are available.
Captain Cal II -Fishing Charter and Party Boat
The Captain Cal II sails out of the Belmar Marina on Route 35 in Belmar, New Jersey. It is a family owned and operated 75' party boat, which is US Coast Guard inspected and certified for safety. This boat is fully equipped with the latest safety, navigational, and electronic fish finding equipment. Clean and separate men and women restroom facilities are just some of the featured comforts found aboard.
You can fish for fluke, sea bass, blackfish, bluefish, porgies, ling, and other fish in season. Have confidence in Captain Ron, who has over thirty years of boating and fishing experience. He is familiar with all of the area's fishing spots and grounds to bring home that big catch. He will provide you the best deep sea fishing experience! You can drive right up to the back of the boat to unload your gear. No reservations are required on the Captain Call II.
The courteous, experienced, and helpful crew is present to make your trip fun and memorable. From beginners to seasoned anglers will find a welcomed spot at the rail to enjoy their time fishing on the Captain Cal II. There is also plenty of free parking on premises.
Danforth's Inc.
Danforth's, Inc. is located in Ogdensburg and has the best to offer you when it comes to new or used boats, outboard motors, boat trailers, and snow removal equipment from Western & Fisher, hitches and boat lifts. Danforth's Inc. carries the top of the line brands including Hurricane, Sweetwater, Aqua Patio, Mercury, Sanpan, ShoreLand'r, ShoreStation, and Yamaha!
Stop in and see what Danforth's Inc. has to offer! Customers keep coming back due to our superior service, sales, and parts offerings. Their trained staff is well-informed in all assets of the sale including care after you have made your purchase with service and parts and accessories sales.
East Dover Marina
East Dover Marina is a full service family owned marina located off the Barnegat Bay in beautiful Toms River, New Jersey. It is an authorized Sea-Doo personal watercraft dealer, so if you are looking for Sea-Doo or Bombardier products, look no further! This marina also carries an impressive stock of all the new 2017 models.
Seaport Inlet Marina
Seaport Inlet Marina is conveniently located in Belmar, New Jersey. It is Shark River's closest marina to the ocean. It is at the east of the Route 71 bridge, so there's no waiting for bridges, the tide, trains or traffic. You'll only be five minutes from the ocean and some of the best fishing on the Jersey Shore.
Whale Creek Marina
Whale Creek Marina is just five minutes from Sea Isle City and Ocean City, New Jersey. It offers the best of the Jersey shore including crabbing, boat rentals, fishing, and kayaking.  This marina is friendly and laid-back. Here, someone is always around to lend a hand or admire your catch.  There's plenty of free parking and everything you need for a perfect day on the water.
Key Harbor Marina
Key Harbor Marina/Statewide Marine Services is located at the heart of the New Jersey Shore. It has been serving the needs of NJ boaters since 1992 and is dedicated to supplying NJ boaters with superior service and premium boat lines. This marina is the exclusive New Jersey dealer for Cruisers Yachts & Cruisers Sport Series Boats. It is also a dealer for NauticStar Boats including their Sport Deck, Legacy and Offshore Boats, as well as Pro Line Boats. Key Harbor Marina/Statewide Marine Services is an authorized sales and service center for Volvo, Mercruiser, Yamaha, Suzuki and Evinrude engines. It currently runs six service vehicles full time, which allows service from the Hudson River to Cape May, and the Atlantic Ocean to the Delaware River.
Boating Regulations
Boating education is a requirement in several US states and Canadian provinces. You need boating education if you will be operating a motorized vessel in New Jersey. Some operators may be required to get a non‐tidal boat license too. It is not necessary that you are a resident of New Jersey to take this online course. All operators must meet the age and education requirements.
A person must be 13 years of age to operate a motorized vessel.
A person below 16 years of age may not operate a PWC.
A person 13 to 15 years of age may operate a vessel powered by an electric motor or vessels 12 feet or longer and powered by a motor less than 10 HP, but only if he or she has successfully passed a boating safety education course approved by the New Jersey State Police.
A person 16 years old or older may operate a motorized vessel if he or she has successfully completed an approved boating safety course.
If you are a resident of New Jersey, you must have a New Jersey certificate, even if you took a NASBLA-approved course in another state.
New Jersey law enforcement officers patrol the waterways to ensure that your boating experience safe and pleasant. It is important that you cooperate with them by following the laws and guidelines.
Vessel operators who are required to have a Boater Education Card must carry the card on board the vessel and have it readily available for inspection by an enforcement officer. There is a penalty for not carrying the Boater Education Card when one is required.
The New Jersey Boat Safety Certificate is proof that you have successfully completed an approved boating safety course that allows you to operate on New Jersey waters. It is usually confused with a boating license, so learn more about the difference.
Even if it is not required by law to get the New Jersey boating education card, many boaters take the boat safety course in order to save on their PWC or boat insurance. Do your part to make boating in New Jersey an enjoyable pastime. Become an educated and responsible boater by completing the Boat New Jersey course. Most importantly, practice what you learn.
For visiting those boaters, all states, territories, and provinces will recognize boating education cards that meet NASBLA requirements and Canadian Pleasure Craft Operator Cards that meet Transport Canada's requirements. This is known as reciprocity.