New Jersey Shore: The Best Activities to Complete the Experience
Growing up in New Jersey means that most of my summers have been filled with trips down the shore. It wouldn't be a rare circumstance for all of your friends to all pile into a few cars and have an impromptu trip to the beach. For instance, when going to college, it might be strange for you because it will be your first time meeting people who didn't share this summer experience. You may feel like preaching the merits of the Jersey shore to your friends, trying to convince them that it was very different than the preconceptions they had from watching "Jersey Shore." The shore needed to be accurately represented. While there is a seemingly endless amount of things to do, here are some of the best.
Go to the beach
This one should be straightforward! The Jersey Shore is home to a whole coastline of beaches, each with its own personality. It's necessary to pick a beach that fits your desires when planning a trip. Some beaches are only for residents or beach club members, while others are totally open to the public. Most beaches will expect you to pay, but if you're looking to park your beach chair somewhere free, Wildwood is the place to go. For non-stop excitement, you should pay a visit to Seaside, Belmar, Point Pleasant or Wildwood, which have many alternative activities for when you're done with the beach. No matter where you end up going, you are sure to have a blast tanning, swimming, playing Frisbee or boogie boarding.
Walk up and down the boardwalk
Many nights down the shore have been spent walking up at the down the boardwalk, stopping for ice cream or meeting at a bench to regroup with friends. There's always something to do, even if it is just people watching. Many of the most famous attractions of the New Jersey boardwalks will be seen later in this list.
Go whale watching
Not something individuals do every day, whale watching is an extraordinary and memorable event. Available in both Cape May and Wildwood, the prices are affordable enough that anyone can get the chance to see dolphins and whales in their natural habitat.
Watch movies on the beach
At Seaside Heights, movies are played on the shore every Sunday and Tuesday through July and August. Some of the movies they have shown include "The Lego Movie," "Finding Nemo," "The Box Trolls" and "Happy Feet." Just check out their website for details!
Climb Barnegat Lighthouse
This attraction, which can be discovered on Long Beach Island, is definitely one for history lovers and casual visitors alike. Originally developed in the mid 1800's, this lighthouse provides spectacular views complete with a little history lesson. There is also a nearby museum.
Eat at The Chicken Or The Egg
One of the most prominent restaurants in Long Beach Island, The Chicken Or The Egg, known to its loyal patrons as Chegg, always has a line out the door. Known for its breakfast menu, this is a definite must-visit any time of the day.
Go to Island Beach State Park
Situated in Seaside Heights, Island Beach State Park is a 10-mile stretch of undeveloped beach. You pay by the carload to get in and the capacity of the park is strictly monitored. Besides swimming, guests can also enjoy scuba diving, biking, kayaking, hiking or picnicking.
Visit the Jenkinson's Aquarium
An excellent way to escape the heat of the sun is to visit an aquarium. An ideal place for individuals of all ages, the Jenkinson's Aquarium in Point Pleasant Beach does a lot of informational sessions, giving all of its guests a moment to walk away with a lot of knowledge. Also, it has cute animals. What more could a person ask for?
Eat at Three Brothers Pizza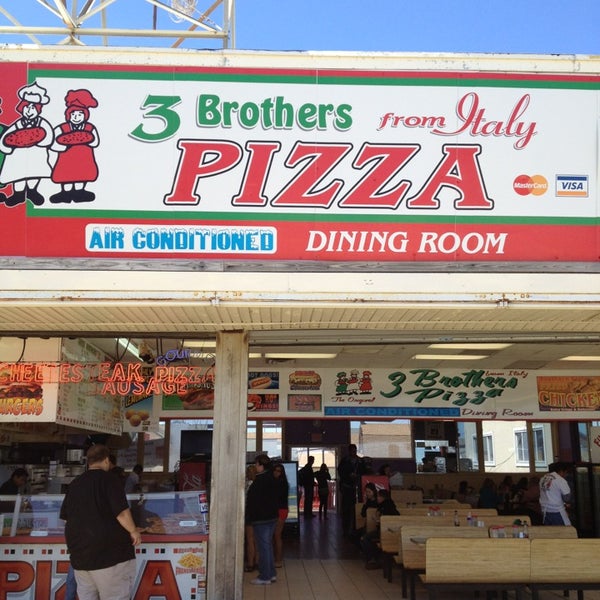 If you're searching for a slice of pizza bigger than your face, Three Brothers is the place for you. With three locations on the Seaside Boardwalk alone, there is always a high demand. The food never disappoints — I'm craving it as we speak. If you need any convincing that Three Brother is a must-try, when I was in Seaside a few weeks ago, I went there every single day.
Visit Kohr's Frozen Custard
An ice cream staple all down the beach, Kohr's is the best custard around. The rich soft serve classic comes in many varieties, one of the most popular being the Orange Cream Custard.
Take an Old Time Photo
An unconventional way to capture memories is by taking an old time photo. There are places on both the Seaside and Wildwood boardwalks that will let you dress up and take a sepia picture with your friends.
Ride dune buggies
Beach Buggy Rides in Seaside Heights is an economical way to get a legitimate experience. While you are not allowed to drive your own, being able to ride around on the beach is pretty cool nonetheless!
Go to the Boardwalk Mall in Wildwood
The Boardwalk Mall is a two-story, air-conditioned paradise situated in Wildwood. The flashing lights and bright colors will always grab your attention as you walk by, and you will find yourself buying cute souvenirs when inside. This mall is a wonderful way to have some fun and break up an aimless walk up and down the boardwalk.
Play boardwalk games
Even though it's tied up to be a waste of money, trying your luck at one of the games on the boardwalk is a must. Whether it's the ring toss, shooting baskets or popping balloons, there is constantly the potential to walk away with a prize. Just don't get too caught up in winning or you may end up paying a small fortune.
Go miniature golfing
There are places to mini golf all over the New Jersey coast. While this is something that can be done at home, the salty ocean air makes the experience all the more fun. It's a good way to have fun in the evening when you're done enjoying the beach and ready to unwind.
Browse through the custom clothing stores
The boardwalks of Seaside and Wildwood are specially packed with customized clothing stores. You can't walk 100 feet without passing one. Even though most individuals will roll their eyes at the "I flexed and the sleeves fell off" tank tops, somehow we're always drawn into these store, if only for a good laugh.
Go on some rides
A favorite attraction for many seeing the Jersey Shore are the roller coasters and other amusement rides. The Slingshot, which catapults riders straight into the air, and The Skycoaster are two rides reserved for only the bravest of people, but there are plenty of rides that give just the right amount of thrill. Classics like the Ferris wheel and carousel can be also be found all around the Jersey Shore.
Stay in a motel
There is nothing like living in a shoreside motel. Yes, it might be a little dirty, but that's half the fun. You won't be staying in the room that much anyway, since there is so many to do. Renting a room with friends will make for a very beautiful and extremely fun weekend.
See the sunrise
This is for those who are a huge fan of watching the sunrise on the beach. Even if you are not one for early mornings, but the view of the sun peeking out over the horizon is absolutely magical. Even if the beach is scattered with other visitors, it's guaranteed to be a tranquil experience.
Go to a bonfire on the beach
Also at Seaside Heights, there are bonfires on the beach every Monday night. Just bring a blanket, listen to some live music and relax under the stars. Admission is free, so there is no excuse not to check this one out!
Wetlands Wildlife Safari
Join Captain Bob and naturalists aboard the Osprey on a smooth voyage into Cape May's natural wetlands. Cape May is world famous for its variety and abundance of bird and marine life. Your interactive trip from the Cape Island Creek Nature Preserve through historic Cape May Harbor and into the Coastal Salt Marsh is a great opportunity for wildlife viewing at its finest. Make sure to bring your camera!
You may see young Osprey in nests, majestic Egrets and Herons and even Bald Eagles on the two hour cruises. You can get an up close look at starfish, eels, sharks and much more in their touch tank. Plenty of loaner binoculars available.
Belmar Parasail
This is your summer to fly like a bird,to resist gravity, touch the clouds, and reach out for rainbows,to soar 500 feet above the Atlantic Ocean over pods of dolphins and schools of rays. Let Belmar Parasail give you the best parasailing experience of your summer at the Jersey Shore.
Belmar Parasail is a family owned and operated business. They offer Parasailing trips from their spot at the Shark River Inlet. Discounts for Military, Teachers and Early Bird Reservations. Gift Certificates available. No better gift to give than the trip of a lifetime.
Parasailing combines parachuting, ballooning, sailing and gliding all in one ride. Great for birthday parties and sports teams.
Take off from the back of their 31 foot parasail boat's flight deck and get ready for the ride of your life. You can choose to be gently dipped a little or a lot in the ocean water and land on the back of the boat just as gently as you took off.
Belmar Parasail's experienced crew is certified, drug-free and have flown folks of ALL ages safely. You can fly solo or with friends. Bring the whole family and enjoy the Jersey Shore from a whole new view.
Jenkinson's Aquarium
Jenkinson's Aquarium is situated on the boardwalk in Point Pleasant Beach, NJ. The whole family will embrace the exotic exhibits such as Atlantic & Pacific sharks, Parrots, Penguins, Monkeys & more! Explore the world of penguins up-close and watch the animal feeding times throughout the day. The kids will love the touch tank for a hands-on experience with live animals varying from a sea star to a sting ray. The aquarium is open all year for your convenience, closing only on Thanksgiving, Christmas and New Year's Day.
Martell's Tiki Bar
Martell's Tiki Bar is one of the most known shore bars in NJ located right on the Point Pleasant boardwalk, steps away from the beach. Listen to live music, enjoy the dance floor and have a great meal and a few tropical drinks at this quintessential Jersey Shore attraction. Martell's seabreeze dining offers lunch, dinner and special themed nights. Martell's also has a banquet hall which makes it the perfect venue to host your event. The perfect environment and great drinks make spot an absolute favorite out of all the top 50 Jersey Shore attractions.
Summer isn't over yet, so if you discover yourself in the New Jersey area in the next few weeks, be confident to try at least one of these things!
New Jersey has established a misleading reputation lately thanks to television programs such as The Real Housewives of New Jersey and Jersey Shore.But despite "McMansions" and the party destinations, the state has many charming natural and historic parks as well as world-class history and art museums.
The state may be in the shadow of New York in terms of tourism but it should not be written off and has many sites to rival those of the Big Apple. It is even possible to visit two of New York's most popular attractions from New Jersey: the Statue of Liberty and Ellis Island.
Explore the cities and experience life on the Shore but also take the exit off the freeway and sample New Jersey farm life and natural charm.
This is a list of the finest things to do in New Jersey and, as always, it fuses a mix of action, adventure and recreation to provide the ultimate companion to tourism in the State of New Jersey.