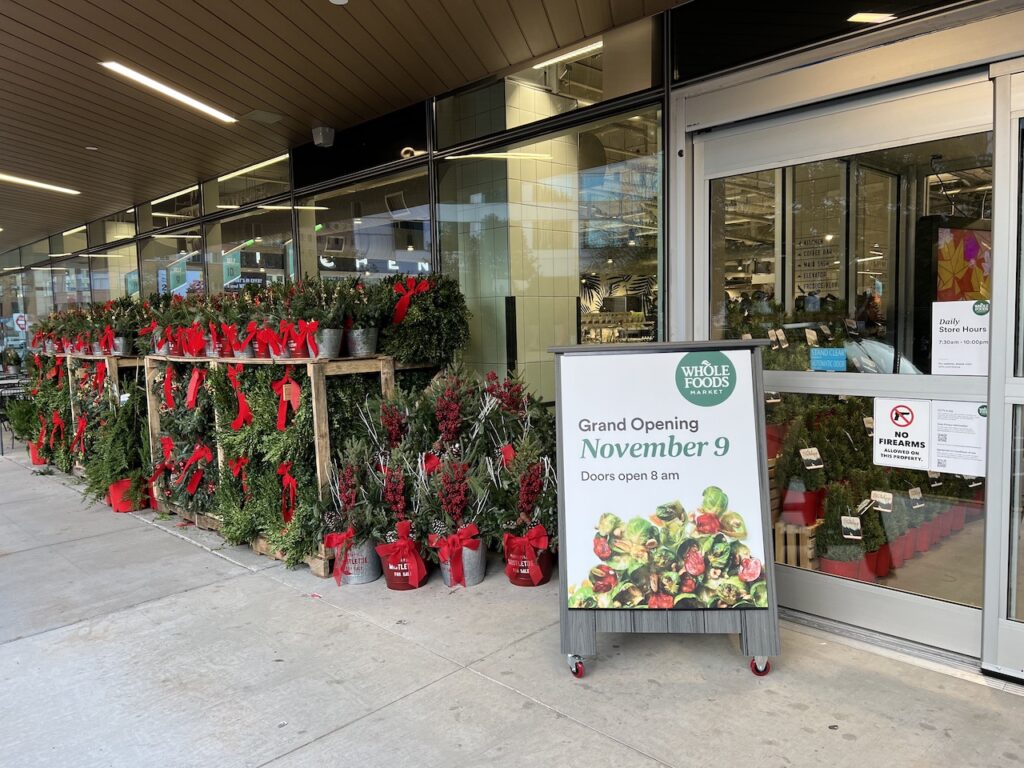 It's finally here — the grand opening of Whole Foods JC. You can also enjoy holiday cocktails at Miracle on Mercer as well as a Thanksgiving dessert/baking class at Felina Steak.
Thursday Events
What: Whole Foods JC Grand Opening
When: Thursday, November 9 from 8am to 10pm
Where: 135 Greene
It's finally here. It took years in the making, but the first Whole Foods Jersey City opens today at 8am. The store will feature 1,000 local items from the Northeast, more than 200 types of cheese, full-service meat/seafood counter, prepared foods section featuring fresh sushi from Kikka, self-serve hot/salad bars, rotisserie chicken, and more. The first 300 customers in line will receive a limited-edition tote bag and a Secret Saver coupon featuring offers up to $100 off.
* * * * *
What: Miracle at Mercer 2023 Season Begins
When: through January 1, 2024
Where: 292 Barrow
Holiday pop-up bar Miracle on Mercer is back for another season of holiday cocktails. Enjoy new drinks like Rudolph's Replacement or The Krampus while snacking on eats from Franklin Social. The holiday pop-up will run through January 1.
* * * * *
What: Milton at Fox & Crow
When: Thursday, November 9 from 8pm to 10pm
Where: 594 Palisade Avenue
Milton will perform at Fox & Crow tonight. The band is inspired by a wide range of vintage, blues, jazz, country, R&B, soul, and ska. Admission is $10/pp.
* * * * *
Saturday Events
What: Felina Steak Thanksgiving Dessert Class
When: Saturday, November 11 from 12pm to 2pm
Where: 2 Chapel Avenue
Italian steakhouse Felina Steak is hosting a Thanksgiving cooking class. Pastry chef Sherly Guiterrez will teach you to how to craft her two specialty desserts, Pumpkin Crème Brulée and Apple Hand Pies. Wine, small bites, and charcuterie will be included throughout the class. Admission is $65/pp (Landmark members pay $52/pp).
* * * * *
The post The Weekender: Grand Opening of Whole Foods, Miracle returns to Franklin Social appeared first on Jersey City Upfront.