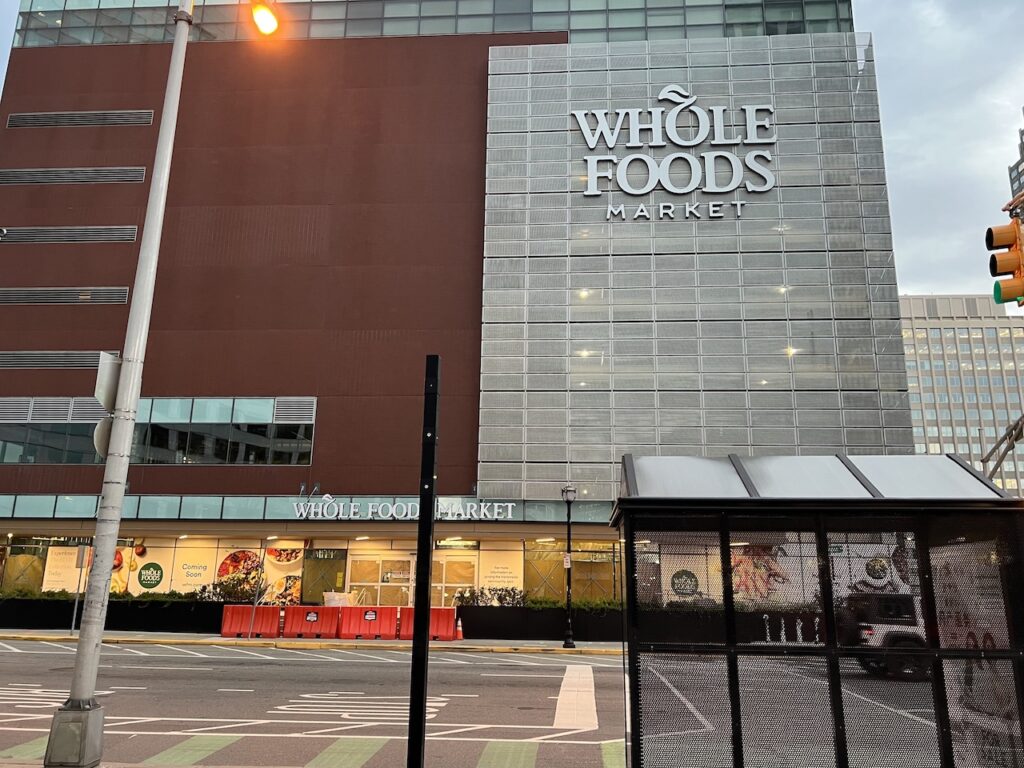 The wait is almost over. The Whole Foods Jersey City supermarket will open this Thursday, November 9 at 8am. The organic grocer recently posted its store opening date on its website. The address of the Whole Foods Jersey City store is listed as 135 Greene, but the main entrance will be on Washington just off Columbus Drive.
Whole Foods' new home is a 10-story building with a parking garage that spans seven stories. Whole Foods Jersey City will take up roughly 51,156 square feet of space from the complex, including the spaces formerly occupied by HopsScotch and Five Guys. After opening day, the store's regular hours will be 7:30am to 10pm daily.
Whole Foods JC features
The Whole Foods JC will feature a design aesthetic inspired by the city's love of art with graphics representing the Hudson River in the store's backyard. The store will offer more than 1,000 local items from the Northeast. Other highlights include:
1: Produce department with an array of certified organic, conventional and Sourced for Good Offerings from more than 12 local farms, including vertically grown strawberries from Oishii; floral winter greens from Kurt Weiss Greenhouse, Inc.; and winter squash from Hepworth Farms.
2: Specialty cheese department with more than 200 types of cheese. Local items include artisan baked crackers from Firehook Bakery, mozzarella from Lioni Latticini, Inc. and fresh pasta from Severino Pasta Company.
3: Curated grocery section filled with everyday essentials from Whole Foods Market's 365 brand, including plant-based options, frozen meals and sides, pantry staples, and sweet treats. More than 1,000 local products, including ground coffee from Paper Plane Coffee Co., dairy-free yogurt from CHKP Foods, organic and gluten-free vegan granola from Naturalvert, Undercover quinoa crisps, Black Seed Bagels and milk and cheese curds from Family Farmstead Dairy.
4: Full-service seafood counter featuring smoked salmon from Catsmo Artisan Smokehouse, local squid and scallops from Lund's Fisheries, and seafood cakes and appetizers from Lagniappe Foods, Inc. All offerings are either sustainable wild-caught or Responsibly Farmed.
5: Full-service meat counter, with butchers available to cut steaks and poultry to order. Features include local pork from Briarwood Cattle Farm, chicken sausage from Bilinski's, and charcuterie from Brooklyn Cured.
6: A prepared foods section featuring fresh sushi from Kikka, self-serve hot and salad bars, rotisserie chicken, self-serve pizza and a chef's case where customers can order "market plates" choosing from a variety of entree and side options like salmon, roasted chicken, and macaroni and cheese.
7: A bakery department offering made-in-house bread. The department also carries a wide variety of special diet items like vegan croissants and scones. Local offerings include artisan bread from Balthazar Bakery, pastries from Palazzone 1960 and artisan pitas from Angel Bakeries.
8: A Whole Body department with a large assortment of wellness and beauty items.
Whole Foods Jersey City updates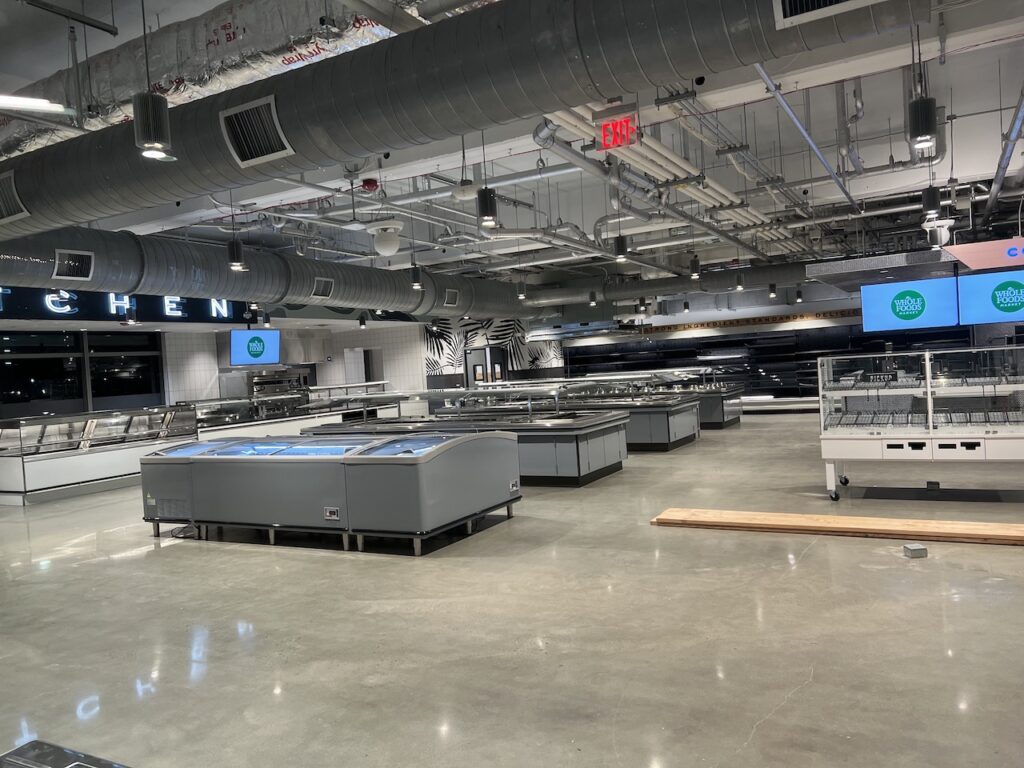 As part of its Prime Big Deal Days celebration, Amazon is offering a variety of Amazon Fresh and WF deals.
Finishing touches are being carried out throughout the store. (October 2023)
Some work has been done on the outside of the forthcoming Whole Foods, but much of the interior ground floor still appears untouched. (June 2022)
A small batch of job openings for the JC Whole Foods made a quick appearance on the Whole Foods careers website a few days ago. While most of the ads appear to have been taken down, it's a hopeful sign of progress. (May 2022)
Construction is still ongoing at the forthcoming Whole Foods JC. What appears to be a pair of escalators can now be see inside the former HopsScotch space. (April 2022)
The first Whole Foods with cashierless technology opened in Washington, D.C., according to The Verge. The store uses Amazon's "Just Walk Out" technology, which lets consumers shop the store without having to interact with anyone. We've reached out to Whole Foods to inquire if the Whole Foods JC location will carry this technology. (March 2022)
During a Reddit AMA, Ward E councilperson James Solomon noted that the Whole Foods in Jersey City will open in mid-2022. (November 2021)
Starting October 25, Amazon will add a $9.95 surcharge to all Whole Food deliveries made in Jersey City.
Construction at Whole Foods continues with no estimated opening date (August 2021)
HopsScotch signage was finally removed (May 2021)
Whole Foods Jersey City Opening Date

Whole Foods JC will open on November 9, 2023. There's no word yet on if there will be any opening day specials or in-store celebrations.
Amazon Slashes Prices at Whole Foods
In 2017, Amazon purchased Whole Foods for $13.4 billion. Immediately, the e-commerce giant lowered food prices in the hopes of shedding the upscale grocer's "Whole Paycheck" image. Last April, Amazon lowered Whole Foods prices again with exclusive weekly deals for Amazon Prime members. (Prime membership costs $139/year and includes multiple perks in addition to Whole Foods discounts). On any given week, Prime members can find a variety of deals at Whole Foods that range from seafood discounts to specials on local produce.
Whole Foods Jersey City and Amazon Go Grocery
Last year, Amazon debuted a new 10,000-square-foot Amazon Go Grocery store in Seattle's Capitol Hill neighborhood. Unlike its regular Amazon Go stores, which house a variety of pastries, sandwiches, and snacks — the new Amazon Go Grocery Store houses over 5,000 products ranging from grass-fed beef to produce. The store has no cashiers, but instead features cameras and sensors that track your moves and purchases. It's like a blend of Whole Foods and Amazon Go.
"There's no plans to put this in a Whole Foods, for now," Amazon Go's vice president Dilip Kumar told tech blog Recode. However, there's a high chance Amazon might incorporate its cashierless model into future Whole Foods markets, such as the one under construction in Jersey City. At the very least, we expect the new Whole Foods Jersey City to include a hub/area for deliveries (much like the one in Tribeca).
Whole Foods Jersey City will join a handful of existing supermarkets in the downtown area including ShopRite, 99 Ranch Market, Sprove, and La Conga.
Note: If you purchase a product from an affiliated Amazon link on our site, we may receive compensation.
The post Whole Foods Jersey City to open this Thursday appeared first on Jersey City Upfront.