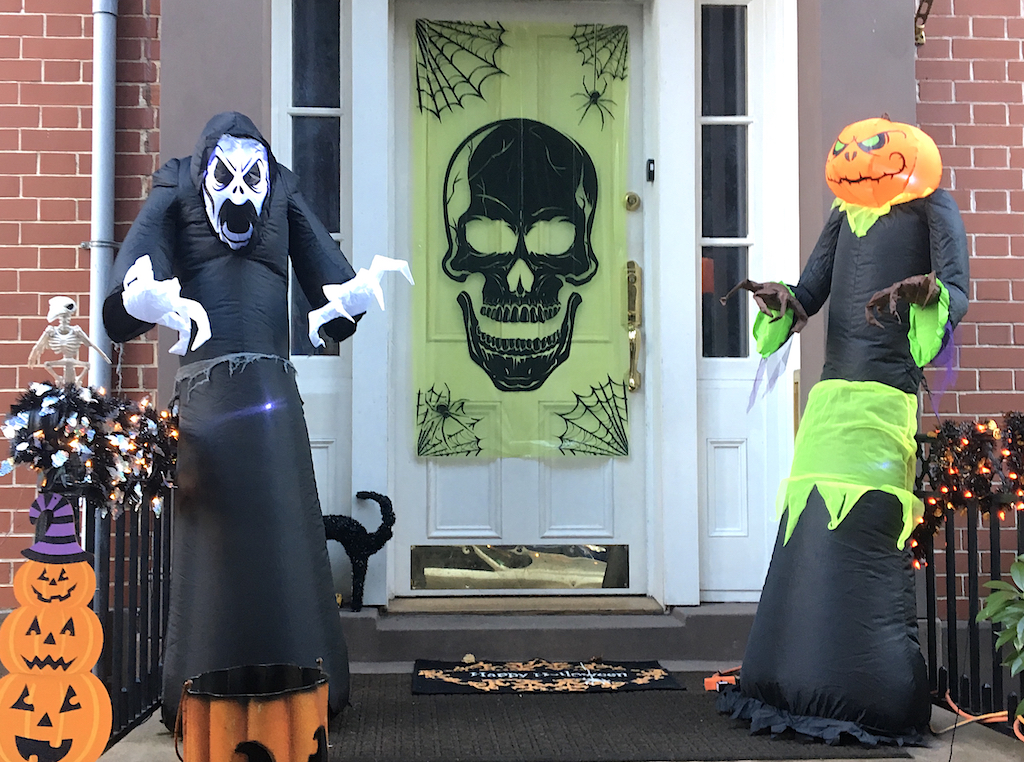 Halloween weekend is fast approaching and if you're looking for things to do, we've got you covered. From costume parties to a zombie opera, here are the best Halloween events in Jersey City this coming weekend.
Friday Events
What: Ghost of Uncle Joe's Resurrection Party at Corgi Spirits
When: Friday, October 27 from 6:30pm to 11:30pm
Where: 1 Distillery Drive
Corgi Spirits is hosting a Ghost of Uncle Joe's Resurrection Party. The night will include cover bands playing songs from Red Hot Chili Peppers, No Doubt, The Who, and more.
* * * * *
Saturday Events
What: Half Light Productions Zombie Opera 80s Prom
When: Saturday, October 28 from 6pm
Where: Hamilton Park Gazebo
Back for its fourth consecutive year, the Zombie Opera 80s Prom will be held in Hamilton Park and feature professional opera singers performing works from Faust, La Traviata, La Boheme, Carmen, and Rigoletto. The show will be directed by Oscar-nominated filmmaker, Catriona Rubenis-Stevens. Food vendors will be available from 4pm, the show starts at 6pm, and the "prom" is at 8pm. Costumes encouraged.
* * * * *
What: Halloween Brunch at Los Cuernos
When: Saturday, October 28 from 12pm to 5pm
Where: 499 Washington Boulevard
Los Cuernos is throwing a Halloween brunch/buffet. There will be live mariachi, face painting for kids, live DJ, salsa dancing, and a costume contest (first prize gets $500). You must book a table/reservations for October 28 to attend.
* * * * *
What: Halloween Party at Emma's
When: Saturday, October 28 from 8:30pm to 12:30am
Where: 4th Path Plaza
For a night of dancing and live music, you'll want to head to Emma's. The restaurant is throwing a Halloween party with a costume contest, karaoke competition, and live DJ.
* * * * *
What: Zeppelin Hall Halloween Costume Party
When: Saturday, October 28 from 9pm
Where: 88 Liberty View Drive
The annual Zeppelin Hall costume party is back. Admission is free and the best-dressed costume of the night gets $1,000.
* * * * *
Sunday Events

What: Day of the Dead Celebration
When: Sunday, October 29 from 10am to 2pm
Where: Riverview Park
Jersey City's biggest Halloween celebration is back with a full day of events. Enjoy the annual Day of the Dead Giant Puppet Parade with live mariachi (Mariachi Oro de Mexico) and dancers. Plus, there will be a pet costume contest ($5 admission fee) starting at 1pm.
* * * * *
Tuesday Events
What: Halloween Family Bash
When: Tuesday, October 31 from 3pm to 8pm
Where: Newark Avenue Pedestrian Mall
Head to the Jersey City Pedestrian Plaza for a family-friendly Halloween party. There will be games, face painting for kids, a corn maze, pumpkins, candy, and more. Plus, there will be live music from the Ghost of Uncle Joe's including with cover bands playing songs by Guns & Roses, Juanes, Death Row Records, and Shrek.
* * * * *
The post Your Guide to Halloween Events in Jersey City — Zombie Opera, Day of the Dead Parade, more appeared first on Jersey City Upfront.